Starting this blog is a like buying a dog, maybe it's not at all like buying a dog, but my point is that it's a responsibility that requires constant attention and nurturing; see, it is EXACTLY like a dog. This new task has encouraged me to keep on top of finding new recipes and also more occasions to actually get in the kitchen, which was one my goals in embarking into the blogosphere. I'm one of those people who despite being very capable, I need a purpose to apply my skills to, otherwise I just rest on my laurels and do sweet F-all. Other valid similarities between blog and dog are that this blog also gives strangers more reason to strike up conversation with me, which is precisely what I found when I arrived with these bread-less aubergine bruschetta at my friends Roya & Nabil's party last night. Suddenly I was not just an awesome dude, I was the awesome dude with the
dog
aubergine snackies (some other guy at the party was already doing the dog thing, he wasn't actually that popular either). People were super appreciative to have some home made food to snack on, and it was an easy road into conversation from there.
So anyway, these tasty little morsels are super simple to make; just grill slices of eggplant in your oven (oil them first), until they start to brown and are soft-to-the-stab, then put a mixture of finely chopped vegetables, fresh herbs & cheese on top. I chose to use heirloom tomatoes, which actually taste fucking bland, and are overpriced, but have amazing colour, which counts for a lot and to be honest, there is enough flavour going on in the other ingredients anyway. This is exactly what went into my mix:
50gms of crumbled ricotta
1/2 cup of finely diced red onion
4 heirloom tomatoes & a few red cherry toms, deseeded & finely chopped
4 tblsp of diced mint leaves
2 tblsp of olive oil (I used a basil infused oil)
vHalf a handful of green olives
Cracked pepper & salt to taste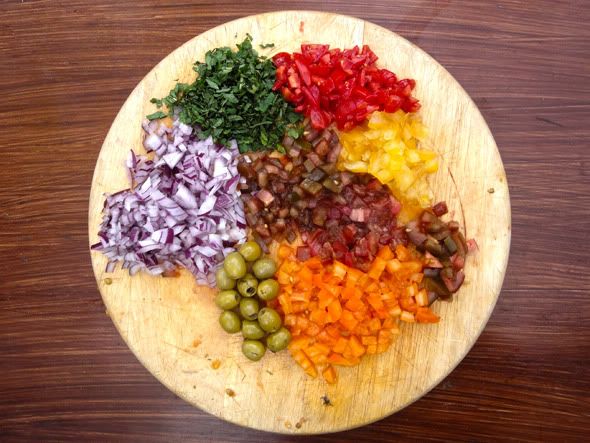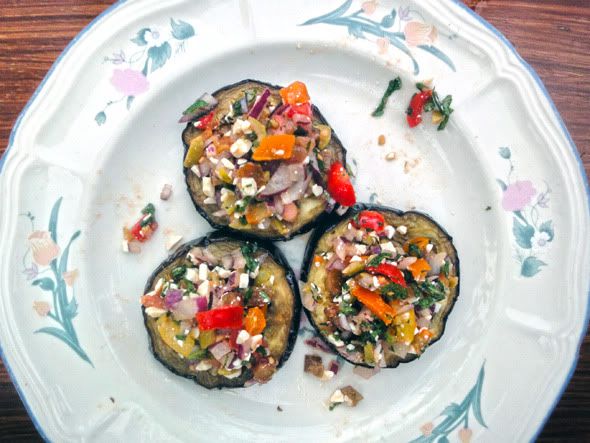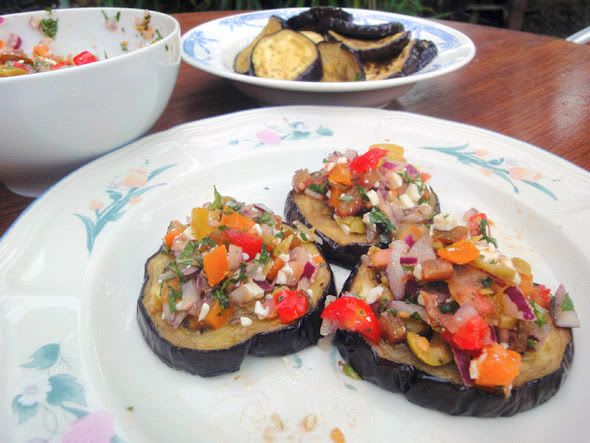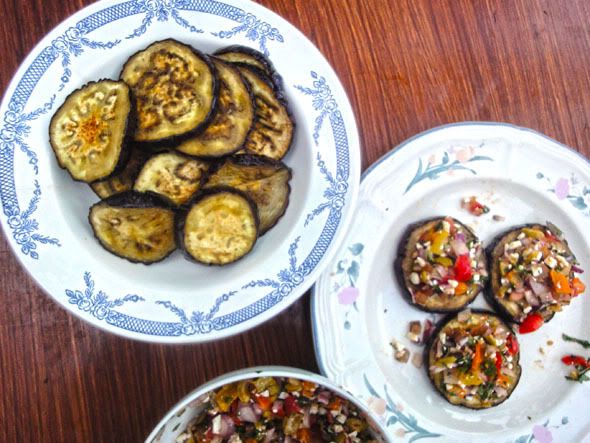 The only real mistake I made was putting too much oil on the aubergine which sucked it up like a sponge & then released it with a lot of moisture after it was cooked. Needless to say, that even these tasty little snacks did nothing to curb the excessive quantity of whisky consumed that night. Though my memory of the night is shady, apparently the beast was unleashed, and it was armed to the teeth with face paint.
Pin It