Wednesday, September 28, 2011
Grilled pita bread with bacon, jalapeno spiced Dutch Gouda, red & yellow cherry tomatoes & basil.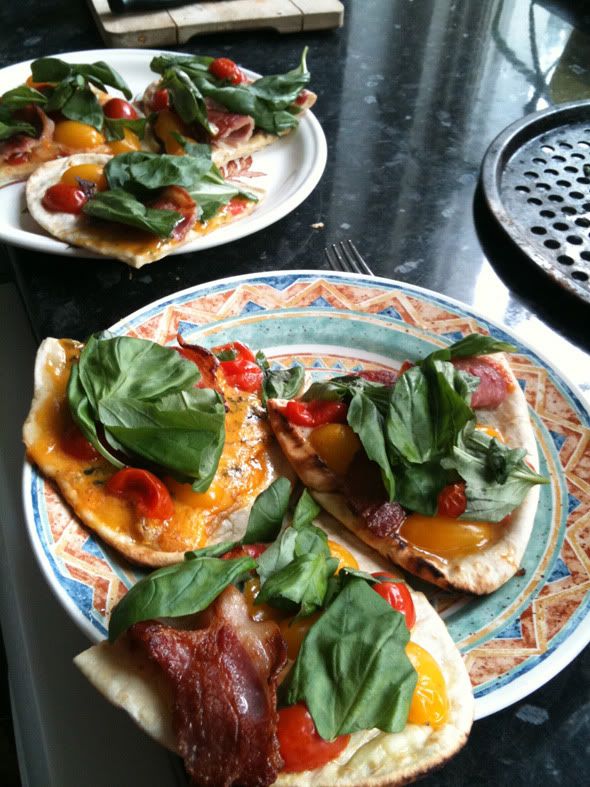 Pin It
This was the second roast I ever made, which probably says a lot about my fear of kitchens during adolescence. Like most teenagers, I was really unsure of myself, and always thought that cooking was an exact science with strict measurements, timings & procedures. Sure, this is true for some dishes, but cooking really is empirical, experimentation is welcome, and 80% of things will go right 100% of the time, if you have even enough common sense.
Every time I attempted to cook a meal at home as a teenager, the only things that would heat up was my temper. I would get annoyed at my mother racing through things that I didn't understand - I mean seriously, sometimes you need to explain the most basic things to someone embarking on a task for the first time; like, don't just tell them to "boil vegetables", explain that they need to make sure all their vegetables are cut to a similar size so they'll cook evenly, and to put the harder ones in earlier, because they cook slower, and also to get the water boiling before they put them in!
Needless to say, teenagers don't take criticism well, and mothers often have the habit of liking things done "their way", even if it's actually unimportant. This combination of bad experiences and my misinformation on the great difficulty of cooking really put me off getting into the kitchen for a long time. This is such a standard dish, I'm not even going to bother including a recipe, as this post is really just a giant "TOLD YOU I COULD COOK" to my mother who believed I would go through life with the culinary skills of a badger.

Bon appetit, roast pork, potatoes, leeks, sweet potato with Bramley apple sauce & baby spinach, feta & tomato salad.


A happy Dan & Jae stuffing their gobs.


The clean up.
Pin It
Tuesday, September 27, 2011
It's appropriate that this first post shares the namesake of my fellow blogger/partner in crime Alma Haser, who in future will be doing the lion's share of photography for Lensefare (her being a photographer as well as an excellent hand in the kitchen helps beyond measure), so apologies for the terrible photo quality on this first post.
So as I was saying, Alma shares the name of this first recipe, they aren't technically Alma fritters, but zucchini fritters, which evidently is Alma's middle name. The name's origin has a curious story, which harks back to a time when her mother Fiona was "expecting" out of wedlock, and couldn't find a suitable way to break the news to her extremely sweet, but devoutly Catholic mother in law. Being the liberal, hippy artists that they were, Fiona & her partner Frieder staged a play for friends and family with a comical storyline that clearly pointed to the fact she was pregnant (probably the most unconventional method of informing the parents you've been knocked up, but sure). In the mad rush to secure costumes and props for the play, the most critical prop was still missing...A BABY! At the last minute, an overgrown zucchini marrow become the substitute for a baby, and thus, both parents agreed that Zucchini was to be the name of their first born child! Fortunately for Alma, Zucchini got vetoed as her first name, but instead became her middle name; spelled "Zukini" as German law requires that any given name reflects the child's sex, Die Zucchini ist VERBOTEN!! However, changing the spelling is technically inventing a new word, so there's the loophole (up yours Standesamt!).
This dish was super easy to make (borrowed from Smitten Kitchen), and made a welcome addition to the fully beer stocked fridge at my friend's BBQ on Saturday.